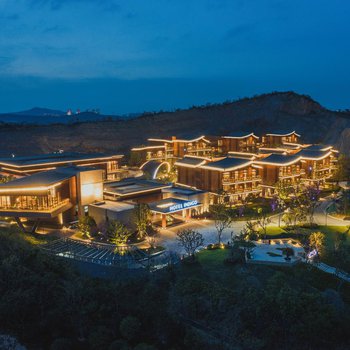 Indigo Nanjing Garden Expo enjoys an enviable position overlooking the whole Regeneration Garden valley and flower terrace. Relying on the surrounding undulating mountains and excavated ore rock walls, the hotel's scattered villas are distributed in the form of courtyards, connecting the winding footpaths and waterways. Inspired by the culture of Indige neighborhood, the hotel presents a tranquil place with mountains and waters.
Surrounded by waterways in the inner courtyard of the hotel, with wooden sloping roof eaves, it reflects the unique beauty of south river land. Staying in 86 guest rooms which combine with mineral elements, which are arranged in 7 courtyard villas in an orderly manner,can hear the song of birds and smell the fragrance of flowers. The main building has an all-day dining restaurant and a lobby bar. The chef's delicately prepared authentic delicacies, refined refreshments and special cocktails, presenting the taste of neighbors. The tea bar surrounded by waterways in the atrium is an elegant gathering place for listening to the water, knowing the fragrance, and calmly sipping tea. The function room and banquet hall of the hotel continue the design style of mineral elements, is an ideal place for holding distinguished business meetings and social events. The supporting fitness center and swimming pool allow guests to relax and rejuvenate.
See the mountains from afar and the water nearby. Stay at Hotel Indigo Nanjing Garden Expo and explore your unforgettable peaceful trip!